Bikram Yoga Beginners
This class is taught by:
Deb has been teaching & practicing Yoga for many years. She has vast knowledge in all aspects of Yoga, the philosophy & tradition of Yoga.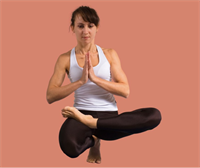 90 minute long beginners Bikram Hot Yoga class Bikram Method, 26 postures, 2 breathing exercises Heated Room, Hot Yoga You can pre-register online or arrive 20 minutes before a class is scheduled to start and register at the Yoga studio. You don't need to pre-book. You can if you would like to. Mats, Towels and Water available at the studio. We have full facilities in our changing rooms - Including lux eco store amenities. Filter water tap for your convenience. Wear clothing that you feel comfortable to stretch and sweat in.
Upcoming classes:
Wed

13 Dec 6:30 am - 8:00 am

with

O.Barbara

Orrego




Wed

13 Dec 4:00 pm - 5:30 pm

with

Deb

Fong




Wed

13 Dec 6:00 pm - 7:30 pm

with

Deb

Fong




Thu

14 Dec 6:30 am - 8:00 am

with

Deb

Fong




Thu

14 Dec 9:30 am - 11:00 am

with

Deb

Fong




Sign Up

Thu

14 Dec 4:00 pm - 5:30 pm

with

O.Barbara

Orrego




Sign Up

Thu

14 Dec 6:00 pm - 7:30 pm

with

O.Barbara

Orrego




Sign Up

Fri

15 Dec 6:30 am - 8:00 am

with

Craig

Sorensen




Sign Up

Fri

15 Dec 4:00 pm - 5:30 pm

with

O.Barbara

Orrego