Yin Yoga - Beginners Welcome
This class is taught by:
Deb has been teaching & practicing Yoga for many years. She has vast knowledge in all aspects of Yoga, the philosophy & tradition of Yoga.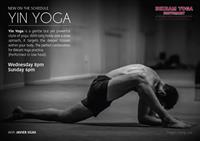 Yin Yoga - Experience a journey into the hips. The temperature is 30 degrees.Yin yoga poses apply moderate stress to the connective tissues of the body—the tendons, fascia, and ligaments—with the aim of increasing circulation in the joints and improving flexibility. A more meditative approach to yoga, yin aims at cultivating awareness of inner silence, and bringing to light a universal, interconnecting quality. Beginners welcome.
Upcoming classes: