Rebeckh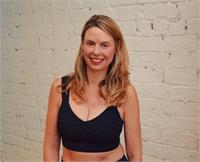 As the founder of Bikram Yoga Britomart. I have realised a dream.
A divine path unfolded for me that lead to the opening of this studio.
I started studying Yoga at the age of 18. I then diversified and studied Naturopathy at the South Pacific College of Natural Therapies. Still in keeping with my study of Yoga. I felt Naturopathy was flawed as there was allot of focus on science and diet. It did not give me the education I was seeking which would empower a person. Rather than prescribe a remedy only to have someone fall off the wagon and revert to old ways. There was a deeper calling. That was Metaphysics. I studied metaphysics. Through this study I delved more into Yoga and understood. "That you are what you think you are" and it is the mind that you need to change, to make any significant changes in your life. So you can be more positive, happy and balanced. I went through to attain a Ph.D. in Metaphysics. My dissertation - The Positive effects of Hatha Yoga on the brain. I then authored a book "Thought Miracles" and several CD's. As well as publishing articles and regular columns in periodicals throughout Australasia.
Then I become the mother to two gorgeous children who I devoted myself too. Whilst my children were young. I started practicing "Bikram Yoga".
It didn't take me long to realise that this practice, was something that completed my research and philosophy on Yoga and creating change in life. "Bikram Yoga" brings you present and fast. It also makes you feel good. When you practice the Yoga you start to know yourself more and more. You become strong on the inside and peaceful on the outside. You are listening to your own self rather than external sources. You are empowered. It is so simple. All you need to do is the Yoga. Everything else will unfold.
I started practicing regularly being a busy mother. I found that being in the Yoga class for 90 minutes was the remedy for everything. It gave me the time out, meditation, energy, release, fitness, community and many other benefits. I then went Bikram Yoga teacher training in 2010. I came back and launched myself into teaching. Learning and practicing as much as I could. I have attended other Yoga trainings. Rajasharee's (Bikram's wife) pregnancy series, The advanced 84 Asana seminar with Bikram. The Wellpark therapeutic Yoga diploma. I have worked with children conducting regular kids classes in schools and kindergartens as part of the physical education program. Yoga is a never ending journey for me. This journey is the path I will always walk. My heart is a Yogi heart and I love this life!
So from me to you welcome to - Bikram Yoga Britomart - I look forward to guiding you on your journey at the studio.
Namaste - Rebeckh (Founder)
Rebeckh instructs the following:
Hot Yoga class 60 min business lunch

Bikram Method, 26 postures, 2 breathing exercises

Heated Room, Hot Yoga

You can pre-register online or arrive 20 minutes before a class is scheduled to start and register at the Yoga studio.

You don't need to pre-book. You can if you would like to.

Mats, Towels and Water available at the studio.

We have full facilities in our changing rooms - Including lux eco store amenities. Filtered water tap for your convenience.

Wear clothing that you feel comfortable to stretch and sweat in.




This class is the classic 84 Hatha Yoga Asana's. Bikram Yoga Beginners series is 26 derived from this full series. The 84 sequence is suitable for people who have a solid foundation of strength and flexibility and would like to try the full series. Not suitable for beginners and Bikram Yoga beginners series at 10am needs to be practiced first to warm up. Email

[email protected]

to discuss.